Mercedes-Benz Dealer Orwell Truck & Van makes all the right connections for Electrical Testing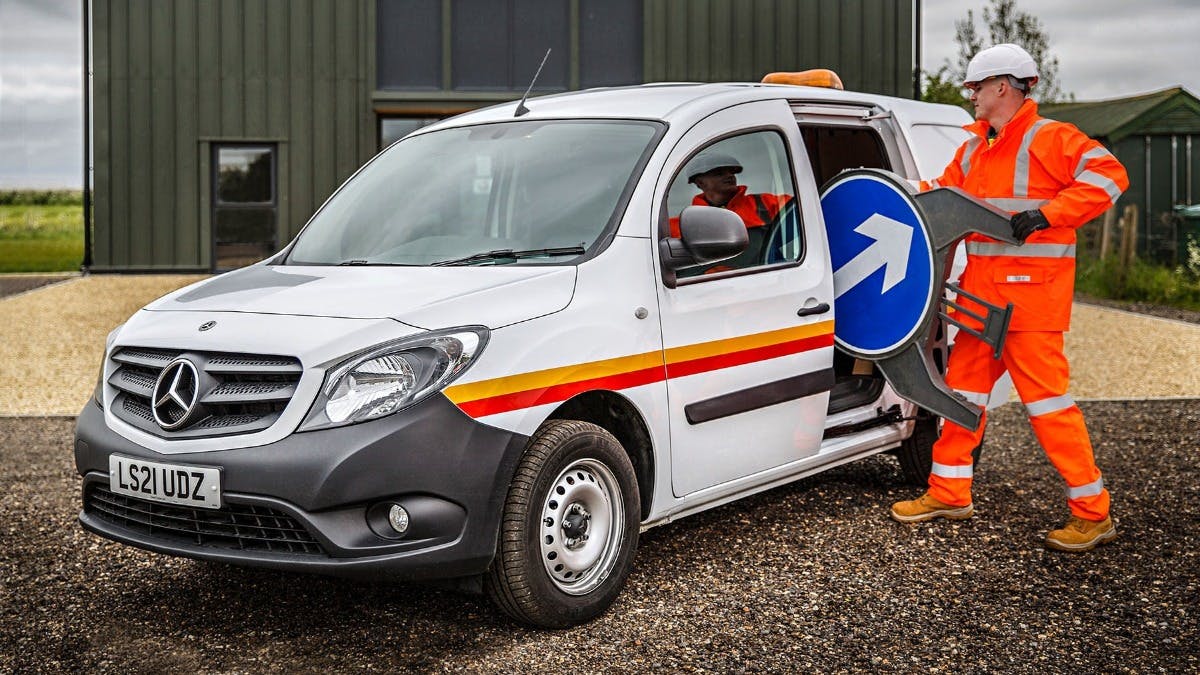 A winning combination of fixed costs, product reliability and good honest customer service means highways services specialist Electrical Testing has now resolved to switch its entire fleet to Mercedes-Benz vehicles from Dealer Orwell Truck & Van.
The manufacturer's representative in East Anglia has just supplied the Norwich-based company with eight small Citan vans. Another 12 are scheduled to enter service before the end of July, with six more ordered for the autumn. Orwell Truck & Van has also delivered 11 larger Mercedes-Benz Sprinters over the last year.

Established more than 25 years ago, Electrical Testing's success has been based on foundations of trust, performance and unparalleled customer service. A significant independent player in the world of electrical inspection and testing of street lighting in cities and on roads across the country, it works with a range of clients including local authorities, main contractors and consultants.

All of Electrical Testing's new Citan vans, and all but four of its Sprinters, are the subject of flexible, competitively priced Operating Lease agreements with Mercedes-Benz Finance. Those that work from the company's head office are being maintained by the workshop team at Orwell Truck & Van's Norwich branch, while others allocated to field-based operatives around the country are serviced by the most conveniently located Mercedes-Benz Dealers.

Electrical Testing operates more than 50 vans in a range of sizes and configurations, that work throughout most of the UK. Traditionally, the fleet has been split between leased and short-term 'spot-hired' vehicles, with a number of brands represented. Recent business 'wins', though, have prompted a change in acquisition policy.

Operations Director Ben Humphrys explained: "We've picked up more longer-term contracts so the need for spot-hire flexibility has diminished. This, coupled with the fact that many of our vehicles were coming to the end of their terms, has allowed us to commit to more lease agreements with Mercedes-Benz Finance.

"We were looking to sign-up to a 12-month replacement programme with fixed rates and a delivery model that suited our needs, but other suppliers were unable to meet our timescales – some were quoting lead times of six months or more, and were unable to guarantee rates beyond the first year. Frankly, I became bored of hearing Brexit given as an excuse for delayed delivery and fluctuating prices.

"There were no such issues with Orwell Truck & Van, though. Sales Executive David Wooldridge was willing and able not only to support our requirements for fixed pricing, but to hold vehicles for delivery until the optimum time for us.

"It was this flexible and honest approach from the Dealer, initially during negotiations over the Sprinters, and then with the Citans, that convinced us to award it our business. Our experience with Orwell Truck & Van has been so positive that we now plan to switch the entire fleet to Mercedes-Benz over the next two to three years."

Electrical Testing's Sprinters are 314 CDI models, with long L2 bodies and fuel-efficient 143 hp 2.0-litre engines. They are assigned to jointing teams, which carry out connections to electricity mains for replacement street lights.

The Citans, meanwhile, are 109 CDI PURE models also have long L2 bodies, while their 90 hp engines offer outstanding economy of up to 65.7 mpg. These are driven by electricians, and structural testing operatives, who carry out routine inspections and tests on street lights.

All of these vehicles are fully ply-lined, and fitted with LED beacons and high visibility 'Chapter 8' chevron markings.

"In the year or so that we've been dealing with Orwell Truck & Van we've been very impressed," continued Mr Humphrys. "David's support has been excellent, and we've benefited from the fact that senior colleagues of his have also taken a keen interest in our business. It's a level of engagement I've never experienced with any other supplier.

"Our Sprinters have proved significantly more reliable than the vehicles they replaced, and I'm confident the same will be true of the new Citans. As a business, it's important that we provide our operatives with vehicles they can trust, with high levels of comfort and safety that encourage them to look after their vans. They're delighted with Mercedes-Benz, and so are we."

In 2011 Electrical Testing became one of the first Independent Connection Providers to gain NERS (National Electricity Regulation Scheme) status. With a staff of more than 100 across divisions including ETL Training – which offers more than 60 separate industry-focused courses, from a purpose-built Training Centre – it has built an enviable reputation as a leading support business in the street lighting sector.