Wincanton leads on construction site deliveries with 14 new-generation Mercedes-Benz Actros drawbar units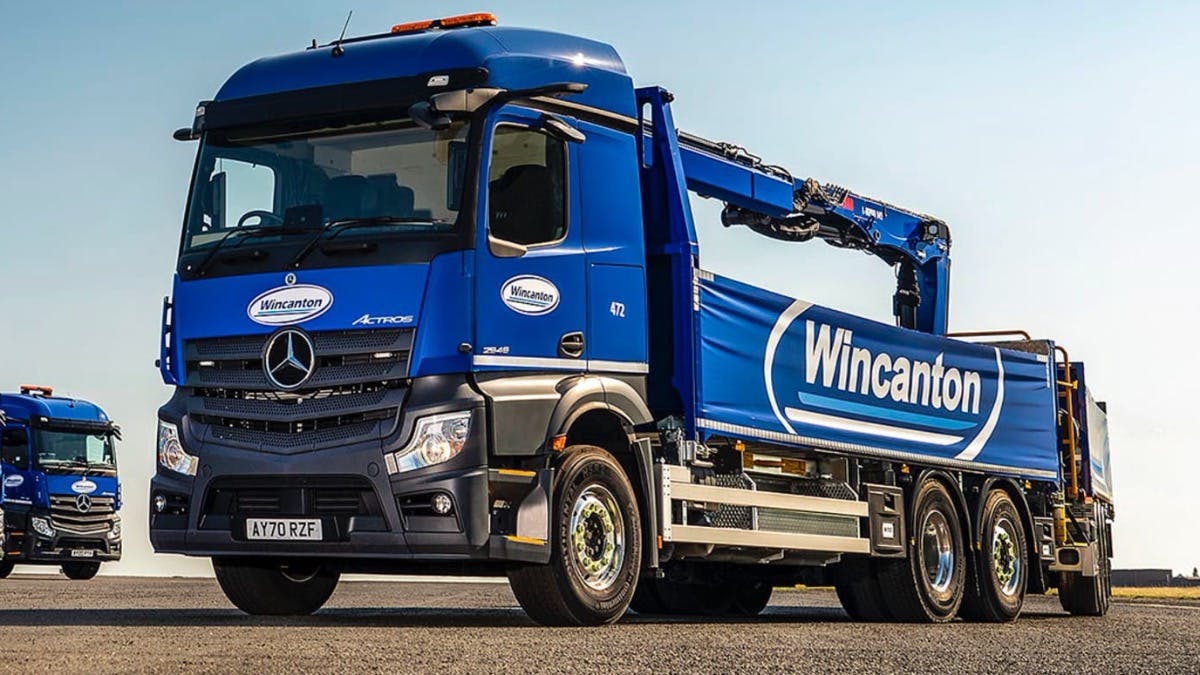 Building materials manufactured by some of the biggest names in the industry are now being delivered to sites nationwide aboard state-of-the-art Mercedes-Benz trucks that have raised the bar in terms of safety and efficiency.
Wincanton's construction operations received their first 14 new-generation Actros models from East Anglia Dealer Orwell Truck & Van, a trusted supplier to Britain's largest third-party logistics company for more than 10 years. The 26-tonne rigids are fitted with rear-mounted cranes, and work with drawbar trailers at 44-tonne gross train weights.
Standard equipment on the fifth-generation Actros includes MirrorCam, Mercedes-Benz Trucks' revolutionary replacement for conventional mirrors. Images relayed by the cameras to screens mounted on the A-pillars inside the cab are particularly helpful to drivers when working on building sites where difficult conditions – clouds of dust, for example – can severely restrict the view from conventional exterior mirrors.MirrorCam provides a clear view to the rear while also eliminating forward-facing blind spots caused by mirror housings.

"MirrorCam has elevated safety technology to a new level," declared Wincanton's construction Fleet Engineer Martin Reeve. "The improved visibility provided by the new cameras is an advantage, particularly when vehicles are manoeuvring on construction sites."

The new trucks have 2.3m StreamSpace sleeper cabs – the narrower of the two widths available – and merit two stars from Transport for London's Direct Vision scheme. As 2546 L models, they are powered by 340 kW (460 hp) 10.7-litre in-line six-cylinder engines.

Given the crane's position at the back of the truck, the Wincanton team ensured compliance by opting for uprated rear-steer axles plated at 8,500 kg to give a 19-tonne bogie weight.

The vehicle bodies and the trailers were built in Sheffield by Massey Truck Engineering, and incorporate multiple lashing points for use with ratchet straps – 900 mm curtains provide additional load protection.

In another 'first', rather than specifying traditional keruing hardwood flooring for its new trucks and trailers, Wincanton has chosen a more sustainable alternative in the form of a honeycomb composite plastic that is also safer and lighter.

Meanwhile, Hiab's 145DLL-1 HiPro long boom crane has a 14.4-tonne lifting capacity. 'Power on demand' technology contributes to fuel efficiency by ensuring that the vehicle engine responds directly, via the PTO (power take-off), to the crane's requirements – so when the crane is not lifting a load, the engine runs on idle.

The Hiab HiPro comes with an advanced 'joystick' radio-remote control, which improves productivity, said Martin Reeve. "While safety is always our number one priority, offloading efficiency is crucial too, as these new vehicles are set up to make the most of the innovations available on these new products."

Wincanton also specifies Hiab's HiConnect telematics system. Working together, technicians from Hiab, Massey Truck Engineering, Mercedes-Benz and Orwell Truck & Van have programmed this to deliver key information via the 12in primary colour display in the upgraded interactive version of Mercedes-Benz Trucks' radical new Multimedia Cockpit. This includes pictorial warnings that, for example, the crane boom or remote-control unit have not been correctly stowed.

Further enhancing safety and fuel-efficiency, the Hiab cranes have also been programmed with remote engine start/stop and PTO selection from the loader's handset control.

Meanwhile, Hiab's 145DLL-1 HiPro long boom crane has a 14.4-tonne lifting capacity. 'Power on demand' technology contributes to fuel efficiency by ensuring that the vehicle engine responds directly, via the PTO (power take-off), to the crane's requirements – so when the crane is not lifting a load, the engine runs on idle.

The Hiab HiPro comes with an advanced 'joystick' radio-remote control, which improves productivity, said Martin Reeve. "While safety is always our number one priority, offloading efficiency is crucial too, as these new vehicles are set up to make the most of the innovations available on these new products."

Wincanton also specifies Hiab's HiConnect telematics system. Working together, technicians from Hiab, Massey Truck Engineering, Mercedes-Benz and Orwell Truck & Van have programmed this to deliver key information via the 12in primary colour display in the upgraded interactive version of Mercedes-Benz Trucks' radical new Multimedia Cockpit. This includes pictorial warnings that, for example, the crane boom or remote-control unit have not been correctly stowed.

Further enhancing safety and fuel-efficiency, the Hiab cranes have also been programmed with remote engine start/stop and PTO selection from the loader's handset control.

Wincanton is accredited to the Fleet Operator Recognition Scheme (FORS) and Construction Logistics and Community Safety (CLOCS), upholding safety across the construction industry. It operates a fleet of over 200 trucks from 27 customer locations nationwide, which make bulk deliveries of materials to UK construction sites. Most work as drawbar combinations, and the majority of these are by Mercedes-Benz.

The Wincanton Group operates some 3,500 trucks in total, and the three-pointed star also features prominently in other parts of its business. Having taken its first two new-generation Actros tractor units from Orwell Truck & Van late in 2019, Wincanton commissioned a further 20 units earlier this year. Other orders fulfilled by the Dealer in the last couple of years included one for 25 truck mixers based on eight-wheeled Arocs chassis.

"Our latest Mercedes-Benz trucks are well tailored to the job," continued Martin Reeve. "We're confident we've got their complex specification 'spot on' when it comes to safety and efficiency, and that will help to reinforce Wincanton's position in the sector."

The Actros are fitted with microwave ovens and fridges, reflecting the fact that their drivers typically spend four nights a week in their cabs. "The Actros was already very popular with drivers but the new models take acceptance to a new level. The current shortage of driver and loader operators in the industry means that driver retention and attracting new talent is a key goal."